Programme architecture
The Forum business programme includes plenary sessions, strategic and expert sessions with international organizations, discussion platforms including with opinion leaders, parity discussions, public–private and business dialogues, webinars, workshops and business breakfasts.
The strategic sessions will cover the following themes:
The mission of women to develop diplomacy for peace and trust

The women's mission to come together for a healthy present and future

Social change 2030: the mission of women to achieve inclusive sustainable development

The digital world: drivers of growth and opportunities for women

Women protecting the planet: creating our future
The seating of participants in the halls for the business programme will follow social distancing, in compliance with the approved sanitary and epidemiological requirements. If seating is full, access to the hall will be restricted. We kindly ask you to be receptive to these prevention measures. The health and safety of the Forum participants, guests, and staff are top priority for the organizers of EAWF 2021.
To attend the sessions you are interested in, please confirm participation in the business programme section of your personal web office. Please note the sessions that are recommended for attendance. They are placed at the beginning of the list of events.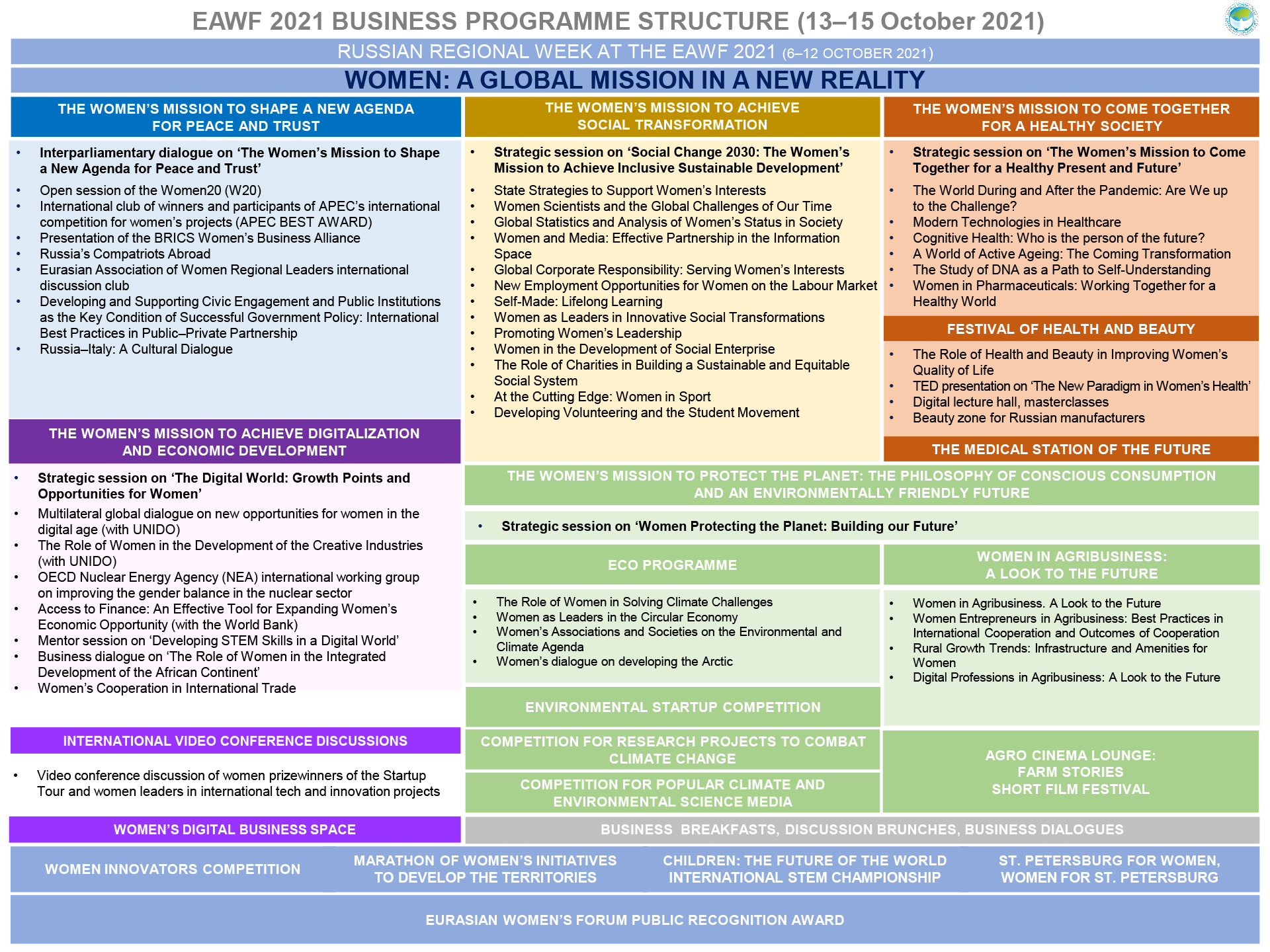 A series of exhibitions and interactive venues will open their doors on the sidelines of the Forum, showcasing the achievements of women in science and technology, the development of the creative industries and post-COVID recovery programmes, and an innovative approach to solving social problems.
Participants will be able to learn about modern approaches to healthcare at the Festival of Health and the doctor's office of the future. A Creative Lounge will be organized at the Forum venue, exhibiting contemporary arts and crafts and hosting a discussion of current trends as part of the International Year of Creative Economy for Sustainable Development.
Expert sessions with international organizations and associations will once again form a key part of the Forum programme. These will include a visiting session of the Women's 20, a session of the United Nations Industrial Development Organization (UNIDO) and the World Bank, and a meeting of the BRIСS Women Business Alliance, an international club of winners and participants of the APEC BEST Award, and an international club of regional women leaders. The International Working Group on Improving the Gender Balance in the Nuclear Industry of the Organisation for Economic Co-operation and Development's Nuclear Energy Agency will hold its first meeting on the sidelines of the Forum.
An interactive exhibition of export projects led by women entrepreneurs will be organized on the sidelines of the Forum with a view to developing international women's cooperation, along with a number of bilateral meetings with the international women's business community.